PhD student, Information Systems
Ronak Razavisousan is a Ph.D. student at the University of Maryland, Baltimore County (UMBC) advised by Dr. Karuna Joshi. Her research interests lie in the broad area of Data Science.
She is working on social media analytics, looking at student migration and mobility patterns, using multi-lingual tweets.
Ronak was invited to present at the Data Science Consortium organized by Michigan Institute for Data Science (MIDAS) on November 13-15 2019.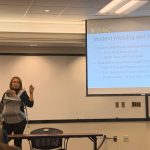 Ronak received her MS in Information Systems from UMBC.