MS Information Systems, August 2019
Ankur Nagar worked on the  Automated Legal Document Analytics (ALDA) project where he developed novel techniques for automating rules for Mobile Wallet processing. His research interests lie in the field of Cloud Computing and Financial Services.
Publications
Ankur is currently working for the Investment Banking Company, UBS. Prior to UMBC, Ankur also worked for three years at Barclays in India.
---
Ankur successfully defended his Master's thesis in Aug 2019.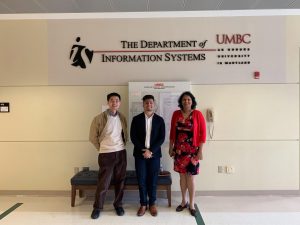 MS Thesis
 title: 
A Semantically Rich Knowledge Graph for Mobile Wallets Transaction Compliance
Committee: Dr. Karuna P Joshi (Chair), Dr. Zhiyuan Chen, Dr. Vandana Janeja
Mobile payments are on the rise and as the popularity is growing it's important to understand the regulation framework behind it. Till today, mobile wallet regulations are in the grey area of USA legal policies. There are no such compliance policies that are specific to mobile wallets. Whatever policies are for banking transactions the same may apply to mobile payment transactions as well.  Thus, making it difficult for the consumer and provider to understand how are they legally bind to such regulations. Banking regulations are large textual documents which are currently only available in textual documents and require significant manual effort to ensure their compliance are met. As a first step towards this vision of a holistic mobile wallets compliance knowledge graph, we have created a semantically rich policy-based knowledge representation of the regulations which apply to the mobile payment. In the Ontology, we have also identified the deontic expressions such as Permissions, Obligations from these regulations for consumer & providers. We have evaluated the ontology with qualitative & quantitative measures and validated this Knowledge Graph against the policies of major vendors that deal with mobile payments. This Knowledge Graph, that is available in the public domain, can be used by practitioners to automate mobile wallets transaction compliance in their organization