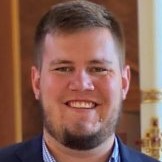 Ph.D. student, Information Systems
Josh Bolton is a Ph.D. student at the University of Maryland, Baltimore County (UMBC) advised by Dr. Karuna Joshi. His general research interest is in Cybersecurity and Data Science, including Semantic Web and Deep Learning.
Josh is a Data Scientist in the Department of Homeland Security on Cyber Security projects. Josh has a Masters's degree in Industrial Engineering.
Publications: Full list at Google Scholar
---
Josh successfully cleared his Ph.D. Comprehensive Exams in March 2022.